Virtual Panel Discussion - Developing a Mentorship Program - A Case Study with the City of McAllen, Texas
Recorded On: 08/26/2021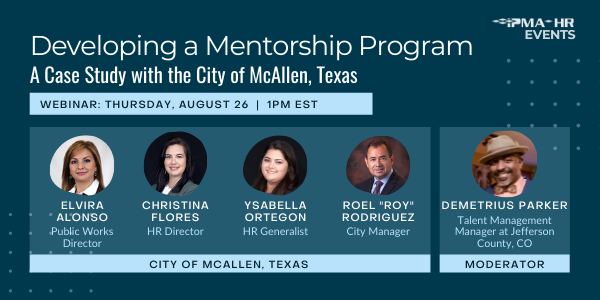 For employers, mentoring programs can bring the benefits of increased employee retention and satisfaction in their daily work driving meaningful learning and development for the mentees and mentors. Once potential leaders are identified, they need to be nurtured. This includes formal and informal mentoring and coaching. Mentorship programs provide the opportunity for employees to develop in their career, leadership, and diversity of skills to succeed in a dynamic workplace. Join IPMA-HR as we highlight the City of McAllen and the development of its mentorship program. Learn about the mentorship program experience, key steps to piloting, marketing, and implementing their program, and challenges and successes along the way.
Demetrius Parker (Moderator)
Talent Management Manager
Jefferson County Colorado Human Resources
Demetrius Parker is the current IPMA-HR Colorado President and is a huge advocate of IPMA HR. Demetrius AKA "D" is repeatedly sought after to speak, facilitate, and or moderate conversations and training in the areas of organizational development, Trust, self-awareness, intentional culture building, and leadership just to name a few.
With over 30 years of leadership experience, he operates as a transformative disruptor/change agent, that enjoys playing a variety of roles and is a wiz at navigating systems within systems. "D", is also known for his invaluable ability to be able to connect across lines and influencing others. He has a love for fashion and helping others grow is his passion. His leadership philosophy is "Dream Big. Live Large, Stay Humble & Kind" and his guiding principles are Candor, Humility, Equity, & Effectiveness, otherwise known as CHEE.
$i++ ?>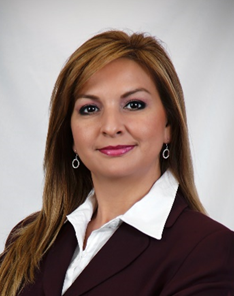 Elvira Alonzo
Public Works Director
City of McAllen, Texas
Elvira Alonzo has over 37 years of public service experience with the City of McAllen. She has served as Director of Public Works for the City of McAllen for five years and manages 277 employees within 14 departments in Public Works including an operating budget of over $40 million.
Elvira graduated from South Texas College with a Bachelor of Applied Technology in Technology Management and is a Certified Public Manager by the State of Texas.
She currently serves as a board member for the United Way of South Texas and the Texas Solid Waste Association of North America (TXSWANA) and has served in multiple community organizations over the years.
In 2015, she received the National Professional Manager of the Year from the American Public Works Association and most recently has served as a mentor in the City of McAllen's Mentoring program the last two years.
$i++ ?>
Christina Flores
Human Resources Director
City of McAllen, Texas
Christina Flores, a native of the Rio Grande Valley, has 10 years of experience in the field of human resources with a broad range of expertise including safety & risk management; worker's compensation; employee benefits, and civil service.

She has served as Director of Human Resources for the City of McAllen for five years. In her time as Director, she has led the launch of a City-wide mentoring program and has been one of the key organizers of an Annual International Women's Day Symposium. She is the newly elected chairperson for the Rio Grande Valley Human Resources Consortium, serves as a board member of both the IPMA-HR Texas Chapter and the Texas Public Employers Labor Relations Association.
Christina graduated from Southern Methodist University with a Bachelor in Business Administration and a Bachelor in Psychology. She also holds a Master's Degree in Business Administration from the University of Phoenix.
$i++ ?>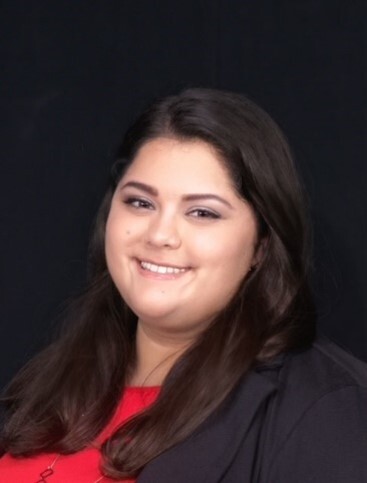 Ysabella Ortegon
HR Generalist, Human Resources
City of McAllen, Texas
Ysabella Ortegon, born and raised in McAllen Texas, is experienced in organizational communication, recruiting, and team development, and is passionate about public service and servant leadership.

Upon graduating from Oral Roberts University with a Bachelor's degree in Communications, she served as a Human Resources Recruiter for the City of McAllen for two years and was promoted to the role of HR Generalist.
In her time with the City of McAllen, Ysabella has facilitated City-wide tours for new and existing employees, created monthly content for Employee Newsletters, and was a member of the Alpha class of the City of McAllen's Mentoring Program.
$i++ ?>
Roel "Roy" Rodriguez
City Manager
City of McAllen, Texas
Roy Rodriguez has over 30 years of public service experience. Has served as City Manager for the City of McAllen since March of 2014 and was previously General Manager of the McAllen Public Utility and Assistant City Manager.
Mr. Rodriguez previously worked as a City Engineer, Assistant City Manager, and City Manager for the City of Harlingen, Texas. He has also served as City Engineer in Weslaco, Jefferson County Engineer, and as Area Engineer in Oklahoma.
Mr. Rodriguez holds a Bachelor of Science in Civil Engineering from Texas A & I University and a Master of Public Administration from the University of Texas-Pan American.
$i++ ?>
Key:
Complete
Next
Failed
Available
Locked
Developing A Mentorship Program-Virtual Panel Discussion
08/26/2021 at 1:00 PM (EDT) | 60 minutes
08/26/2021 at 1:00 PM (EDT) | 60 minutes
Developing a Mentorship Program in the Public Sector
Virtual Panel Discussion Feedback
5 Questions
5 Questions
Virtual Panel Discussion Feedback
Certificate of Completion
Live and Archive Viewing: 1.00 IPMA-CP-IPMA-SCP Recertification Point credit and certificate available
Live and Archive Viewing: 1.00 IPMA-CP-IPMA-SCP Recertification Point credit and certificate available
Certificate of Completion